Artwork
Marcela Troncoso, multifaceted artist, found in Fine Arts and Design, another way to express her passion for art.
Parallelly to her graduation in Medicine, she developed a solid formation in art , studying in the most prestigious institutions of Argentina. She has specialized about Graphic Humour in the last years, researching mainly Tango thematic, as well as in Graphic Design for tango events.
Art gallery is here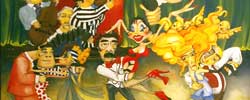 STUDIES:
University Master Level in Visual Arts at IUNA (University Institute of Art, Bs. As. Argentina (3 years)
Professorship in Visual Arts at IUNA (3 years)
Fashion design at CAEM , Bs. As.(4 years)
Pattern for fashion at CETIC , Bs. As. (2 years)
Postgraduate studies at Polytechnic University in Madrid, Spain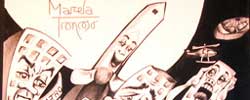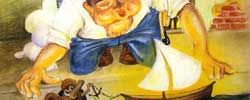 COURSES:
Characterize for theatre (Make-up, Hairdresser) at ISA (Superior Institute of Arts- Teatro Colon) Buenos Aires
Scene and lights for theatre at ISA, Bs. As,
Art History annual courses at National Museum of Fine Arts, Bs. As.(4 years)
Fine Arts courses at Recoleta Cultural Centre, Bs. As.
Graphic Humour and Caricature at San Martin Cultural Centre, Bs. As.
Photoshop and Illustrator at IAC, Bs. As.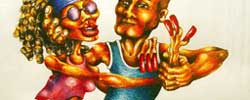 WORKS:
Fashion Design teacher and fashion designer (Please check under Fashion)
Magazines illustration ( Bs.As. Tango , El Tangauta, Tango y Cultura Popular, Bulebu con Soda)
Book illustration (Todo tango, Cronache di una lunga convivenza by Meri Lao, and Tango para chicos by Graciela Pesce)
Cartoon illustration: Malajunta (El Tangauta magazine)
Layout and Image design for Tango ( tango events, associations, etc.)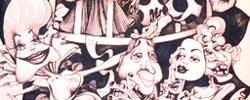 MAIN EXPOSITIONS IN ARGENTINA:
Centro Cultural Sur, Bs. As.
Palais de Glace, Bs. As.
Casa de la Cultura de Vicente Lopez, Bs. As.
Festival Nacional de Tango, several editions
MAIN EXPOSITIONS IN EUROPE:
Universities

: University of Alicante, Spain. University of Salamanca , Spain.

International Tango Festivals

: Lisbon/Portugal ; Arteixo/Spain; Malmö Tango Festival/Sweden ; Sitges/Spain; Tangocamp/Finland; Östersund/Sweden; International Tango Summit 2007 Valparaiso/Chile; Tango del Norte, Copenhagen/Denmark.

Theatres and Concert Halls

: Konserthus Malmö; Vasa Teatern Stockholm, Gamla Teatern Östersund, in Sweden.

Tango Associations

: Tangorama, Camarin, Tango Norte, Cambalache,
Tangostudio in Sweden... Tangoföreningen Folleslov, Denmark.... Abrazo Nimes France.

Art galleries

: Galleri Konstpunkten, Panora, Sofielunds Folkets hus, in Malmö, Suecia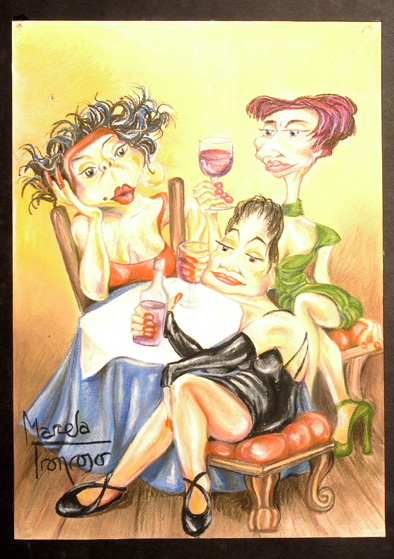 CONTACT
Mailform in the left menu
Tel 0735 827978 (calling from outside Sweden +46 735 827978)
Arte
Marcela Troncoso, joven artista multifacetica, ha encontrado en las Bellas Artes y el Diseño otra forma de expresar su pasion por el arte.
Paralelamente a su graduacion en Medicina , desarrollo una solida formacion en arte, estudiando en las mas prestigiosas instituciones de Argentina. Se ha especializado en los ultimos años en Humor Grafico, investigando la tematica de Tango, asi como en Diseño grafico para eventos de tango.
ESTUDIOS
Licenciatura en Artes visuales IUNA (Instituto Universitario Nacional del arte) Bs As. (3 años)
Profesorado de Artes Visuales IUNA (3 años)
Diseño de Modas CAEM (Centro Argentino de Estudios de la Moda) Bs,As,(4 años)
Molderia Industrial CETIC (Centro de Estudios para la Industria de la Confeccion), Bs. As. (2 años)
Posgrado en la Universidad Politecnica de Madrid, España.
CURSOS :
Caracterizacion teatral (maquillaje y peluqueria teatral) ISA (Instituto Superior de Arte del Teatro Colon de Bs. As.
Escenografia y Diseno de iluminacion para teatro ISA
HIstoria del Arte, cursos anuales Museo Nacional de Bellas Artes Bs. As. (4 años)
Bellas Artes, diferentes cursos, Centro Cultural Recoleta, Bs As.
Humor Grafico y Caricatura Centro Cultural San Martin, Bs. As.
Photoshop e Illustrator IAC (Instituto Argentino de Computacion) Bs. As.
TRABAJOS
Profesora de Diseño de Modas y diseñadora-modelista (mas informacion bajo el Titulo "Vestuario")
Ilustracion de revistas ( Bs.As. Tango, El Tangauta, Tango y Cultura Popular, Bulebu con Soda)
Ilustracion de libros (Todo tango, cronache di una lunga convivenza, de Meri Lao Y Tango para chicos de Graciela Pesce)
Illustracion de historietas: Malajunta (revista El Tangauta )
Layout y Diseño de Imagen para Tango (eventos de tango y asociaciones)
PRINCIPALES EXPOSICIONES EN ARGENTINA:
Centro Cultural Sur,
Palais de Glace,
Casa de la Cultura de Vicente Lopez, Bs. As.
Festival Nacional de Tango

PRINCIPALES EXPOSICIONES EN EUROPA:
Universidades : Universidad de Alicante, Espana. Universidad de Salamanca , España.
Festivales Internacionales de Tango : Lisboa/Portugal ; Arteixo/España; Malmo Tango Festival/Suecia; Sitges/España; Tangocamp/Finlandia; Ostersund/Suecia. Cumbre Mundial del Tango 2007 Valparaiso/Chile; Tango del Norte Copenhage/Dinamarca.
Teatros y Salas de Concierto: Konserthus Malmö; Vasa Teatern Estocolmo, Gamla Teatern Ostersund, en Suecia
Asociaciones de Tango : Tangorama, Camarin, Tango Norte, Cambalache,
Tangostudio en Suecia.... Tangoforeningen Folleslov, en Dinamarca... Abrazo en Francia.
Galerias de arte: Galleri Konstpunkten, Panora y Sofielunds Folkets Hus, Malmö, Suecia
La galeria de arte esta aqui